What is Age Related Near Vision Loss
Loss of near vision, or presbyopia, happens when your natural lens loses elasticity, making it difficult to change your focus to see objects up close.  It affects most people in their 40s and early 50s.
Many of Our Patients Struggle with the Hassle of the Constant Need for Readers.
Presbyopia is natural and happens to everyone. Some people will need to start treating it earlier than others, and most people over 40 will find themselves seeking solutions for age related near vision loss. While there are several treatment options for presbyopia, the most common is reading glasses. The hassle and inconvenience of readers is driving many patients to look for a better way to improve their near vision without glasses.
Putting an End to On, Off, On, Off Conversation
Finding your reading glasses to read a menu, then taking them off to order, putting them on to check your phone, then taking them off to talk to someone across the table. Minor inconveniences can add up to a major hassle when you're dealing with them day in and day out. Raindrop® Near Vision Inlay helps put an end to the on, off, on, off conversation. DiStefano Eye Center is the first in Chattanooga to offer this procedure!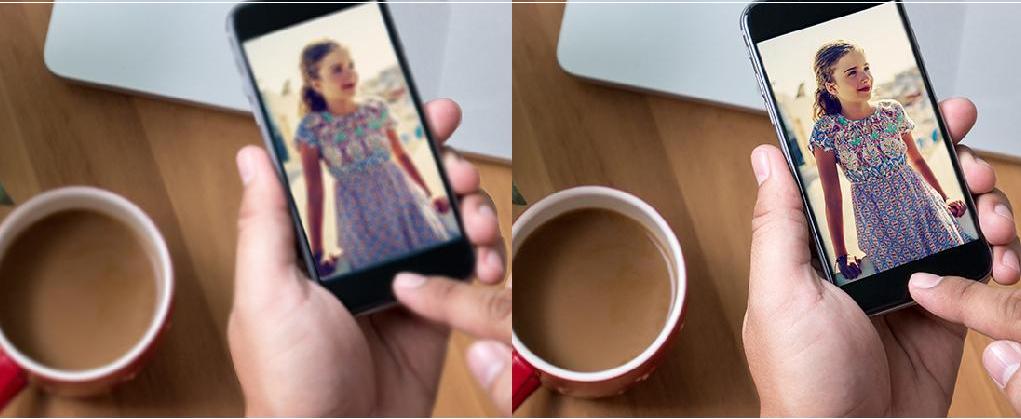 Raindrop Near Vision Inlay, A simple solution
The Raindrop Near Vision Inlay is a simple solution to presbyopia. This innovative and unique procedure is an effective alternative to the hassle of readers. Raindrop Near Vision Inlay is a minimally invasive and long term solution to improve near vision without glasses.
About Raindrop Near Vision Inlay Technology
Raindrop Near Vision Inlay is a microscopic, transparent disc called an inlay, which is implanted just beneath the surface of your eye. The inlay is made of approximately 80% water and works by reshaping the cornea, clear front part of your eye, to improve the ability to focus on near objects while minimally impacting distance vision.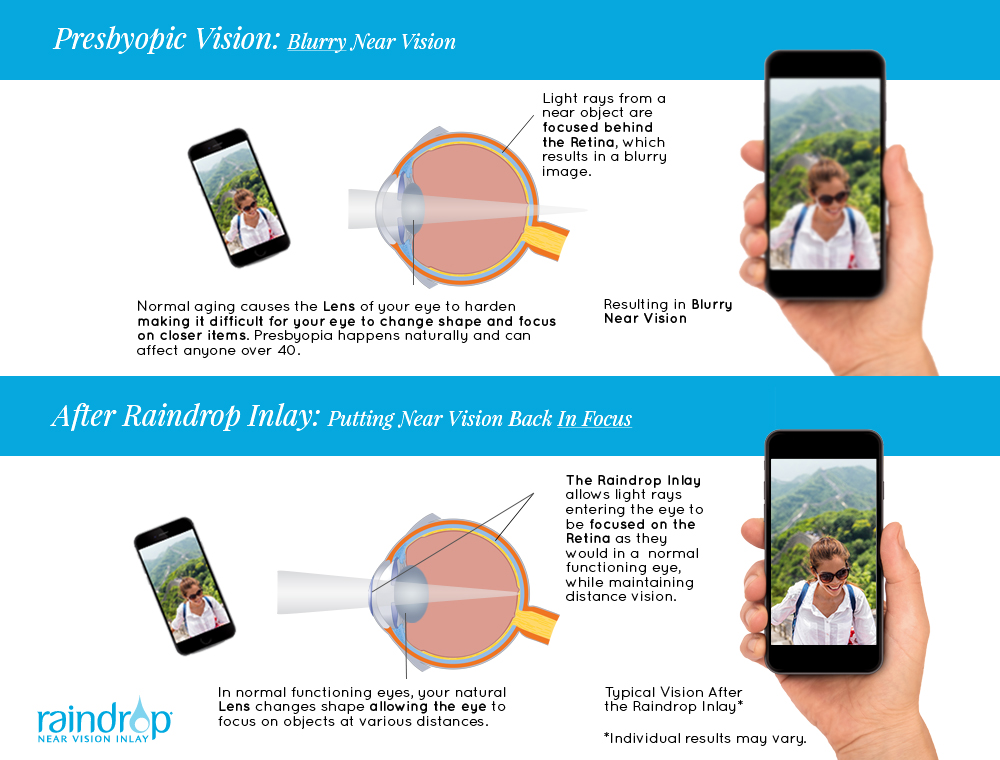 One of our highly skilled doctors will determine if you are a candidate for the Raindrop procedure through a series of tests and measurements on your eyes.
Am I a candidate for Raindrop?
You may be a candidate if:
 Are between 41-65 years of age
Wear reading glasses
Experience blurry vision when reading or focusing on near objects
Do not need corrective eyewear to see far away
In preparation for your procedure you will be given a prescription eye drops. The procedure only takes about 10 minutes, and is performed with a laser similar to LASIK procedures. Recovery is quick, with many patients resuming normal activities the next day, and aftercare includes prescription eye drops and follow up appointments. Patients see an improvement in vision within one week and vision continues to improve for several weeks, with the majority (>87%) of patients achieving 20/25 near vision or better.1
Is Raindrop covered by Insurance?
No.  The Raindrop procedure is not covered by insurance, but financing is available.  FSA plans can also be used.
Schedule Your Consultation
Raindrop can help you put an end to the on, off, on, off conversation. Contact us today to schedule a consultation to see if you're a candidate.
1. Raindrop Near Vision Inlay-Prescribing Label, ReVision Optics, Inc.
LASIK surgery changed my life. I'm more productive and more active than ever. I wish I'd done it sooner. Dr. Distefano and her staff were amazing!
Roger L.
Appointments
Schedule an appointment at either of our offices.